Fairy Kei is a very colourful style. Fairy Kei can also be called SPANK! style or pop-kei.
The colours that are used the most are pastels with sometimes bright fluorescent or darker colours. Pastels and neon-tinted pastels, or high-saturated pastels. Popular colors are mint/seafoam, lavender, super pale pink, electric blue, lime green, creamsicle orange, neon orange In every fairy-kei outfit is a little bit of an 80's touch. Cartoon printed accesories with My Little Pony, Stawberry Shortcake, Disney characters, Care Bears, Rainbow Brite, vintage 80s Barbie are a must.
Haircolours can be very different in Fairy-kei, most have natural haircolours but there are a few girls who actually dye their hair in pastelcolours too. For people who want their hair coloured but not permanent, wigs are a pretty good option. Another way to make your hair look colourful is to take extentions in one or more colours. Popular hairstyles are childlike things like 2 pigtails, 2 braids or a mini pigtail with some very cute hairclips.
The make-up is mostly the same as the rest: very colourful and much pastels. Very pink lips and multi-coloured eyes. For more impact there will be some who have strass-stones or stickers on their cheeks.
Even the nails have pastels or for the more experienced girls, themes like the ones that I mentioned above.
Accesories are mostly cute and childlike. The amount of accesories is normal that's how you can tell it apart from decora. The most common shoes are pastel coloured sneakers, heels are vey seldom seen with fairy-kei.
Just like many other Japanese streetstyles, Fairy Kei uses a lot of layering. But unlike the other styles this is just to add exra colours, like a petticoat, cardigan even legwarmers are a good option!
There are several motifs and themes that are very popular, like unicorns, bunnies, rainbows, teddybears, sweets, strars and ribbons. The texture of the clothes is flowy and loose.
Popular Fairy Kei brands are Spank!, Nile Perch, Ticket to Darling Shop & Manasca Banana. However most second hand stores are great for colourful cheap items too. Most of the items (especially the accesories) are handmade.
Characteristics
Pastel colours
Childish accesories
Vintage/80 touch
Layers with different colours
Tips for wannabe's:
Remember all those toys you played with when you were little? Make your own 'My Little Pony' necklace or pin your carebears on your jacket.
Replace the laces of your shoes for more colours.
Get creative and start crafting.
Surf on the internet to pick up some inspiration for layering clothes or accesories.
Watch some 80's movies/cartoons or search on the internet for screencaps.
Visit online shops.
Look a lot at children in you environment, especially the accesories they are wearing. Get inspired by them.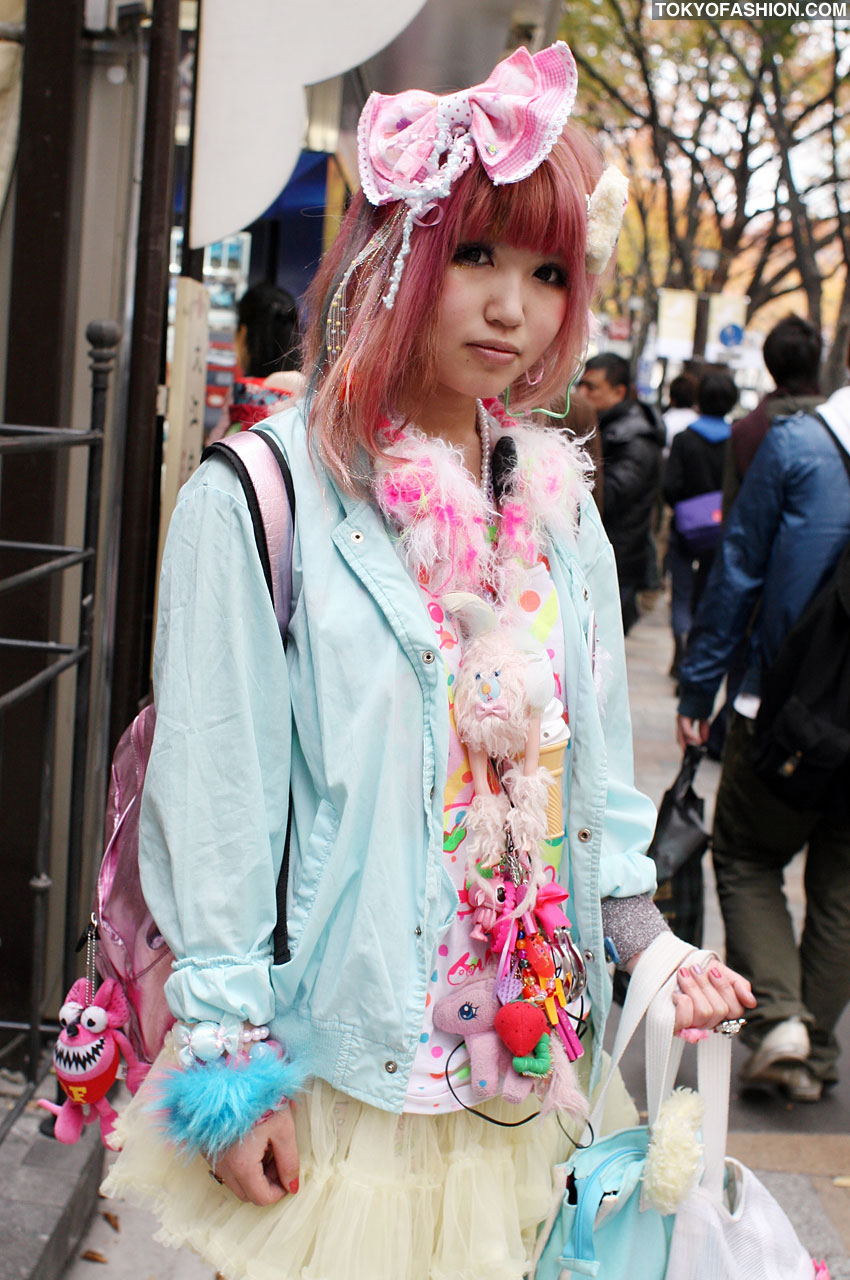 Xx